Let me tell you a story: A few years ago, we prepared an audit review at a company with zap Audit. It worked – albeit with a solid case of fraud.
A company car was purchased at list price and sold in several steps from company code to company code throughout the entire group, each time below book value. In the end, it changed hands to private owners. We call it the "pink Maserati" because the procedure was as conspicuous as an absurdly colored sports car.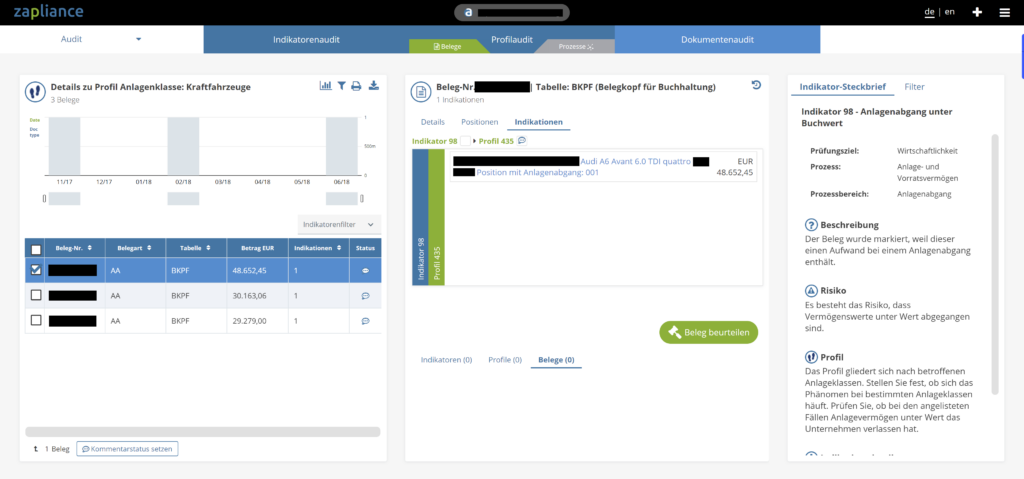 Such cases of corroborated indications are unfortunately not exactly rare. We see it time and again that employees of companies deliberately act contrary to regulations and thus cause negative effects on the net assets, financial position and results of operations. Nearly every company struggles with this, so perhaps you have a similar story at the ready.
Wouldn't it be nice if we could use a "golden formula" to uncover these kinds of data patterns? A way to find the famous needle in the haystack would certainly please us all. However, in order to identify the needle, we first have to analyze the haystack.
Fortunately, there are always bright young talents who take on just such things. As a former university spin-off, we are happy to support students with their final theses. We are currently helping Simon with his master's thesis, which aims to find out whether forensic data analysis can be used to record real cases of corroborated indications. As part of this, he has developed a survey that will be evaluated as an empirical study. If patterns emerge in relation to the various corroborated indications, these will be stored in a fraud database and will serve as the basis for analyses for identification in the future.
Simon therefore offers you the opportunity to get to know the haystack and find the needle in it. Are you already using forensic data analysis? Then we ask you to participate in the anonymous survey. After the survey is completed, there will be an evaluation for all participants.
If you are also interested in forensic data analysis, please send us an email to info@zapliance.com.
We will be happy to conduct a prototype version with you according to scientific standards.
So, in the service of science: let's go!