May 2022 was Internal Audit Awareness Month: As it wraps up, I'd like to take this moment to talk about the future of auditing and the role of people in auditing. This article is intended as a suggestion for how we can use the Awareness Month May to discuss important issues and derive much-needed action from them.
The recent article "The Future of Internal Auditing: Gardener of Governance" by Rainer Lenz and Kim K. Jeppesen (2022) addresses the impending loss of importance of internal auditing. This thesis is supported by the study "The Future of Jobs" by the World Economic Forum[i] , which compares various professions and their future significance – accounting and auditing landed in fourth place among the jobs (top 5!) for which demand will decline in the coming years.
Internal auditing is at a crossroads: If it doesn't evolve over time, it will desolve.
Rainer Lenz warns that internal auditing must react now in order to remain relevant. As a clear recommendation for action, the article identifies five areas of work in which internal auditing must improve – these are.
Planet, Public, Profession, Prosperity, as well as People.
"The gardener of governance" is Rainer's recommended metaphor for an internal audit and profession whose added value "resonates" with all stakeholders, countering the threat of irrelevance.
Thank you, Rainer for your passion for our profession, your open mindset and your strong perseverance! Well Done.
This article is not only a MUST-READ, but also a MUST-DISCUSS for everyone who is an auditor with heart and soul.
For me, the article has moved a lot and triggered an "inner discussion", especially about the validity of the statements and also about the prioritization of the further procedure:
Is the description of the initial situation correct at all? Even if the future is uncertain, why exactly do we need to change anything? The standards already provide everything. Data analysis, process mining, corporate social responsibility. All of this is already possible.
How do we approach the 5 work areas mentioned by Rainer? In the article, these are described as 5 paths. What should we start with now?
We have to act now!
Today's world is subject to constant change processes and is now increasingly described as a "VUCA World". A term that stands for the following characteristics of today's business world: Volatility, Uncertainty, Complexity and Ambiguity.
But also in our everyday life there are a lot of changes: It is enough to take a look around our own company, our private environment or the environment of our (grand)children. The speed at which the use of media, for example, is changing is breathtaking. The business world is always a few years behind the private environment.
This dynamic environment requires people who work in business to quickly adapt to new circumstances – internal auditors included. If they fail to do so, they risk losing their relevance.
Are auditors prepared for the VUCA world?
In the past, I have experienced not only how auditors deal with change and uncertainty, but also how start-ups react to it. For example, I had the privilege of working in internal audit for over 15 years. I also co-founded a data analytics scale-up and have been its CEO for over 7 years.
During that time, I have observed the start-up community learn to deal with change and uncertainty on an almost daily basis. The situation was different with auditors: For them, there was no need to permanently adapt in most companies in the past. The comparison makes it very clear that most employees in internal auditing are not sufficiently prepared for their dynamic environment.
Although Internal Audit is slowly starting to use agile methods and technologies, the biggest difference between the two cultures is the mindset – that is, among other things, the mental flexibility to adapt to new circumstances.
In the coming years, big challenges await not only companies – but auditors as well.
I believe that the organizations for which internal auditors work will have to keep adapting over the next 10 to 15 years. That also means that any audit function will have to adapt as well. So there is a tremendous challenge here for internal auditors.
To sum up:
Do we need to transform? YES!
When should we start? Now!
The most interesting part for me actually starts now. Once the mental course has been set in the direction of transformation, the exciting question arises: What needs to happen now and in which of the five areas mentioned by Rainer do we start?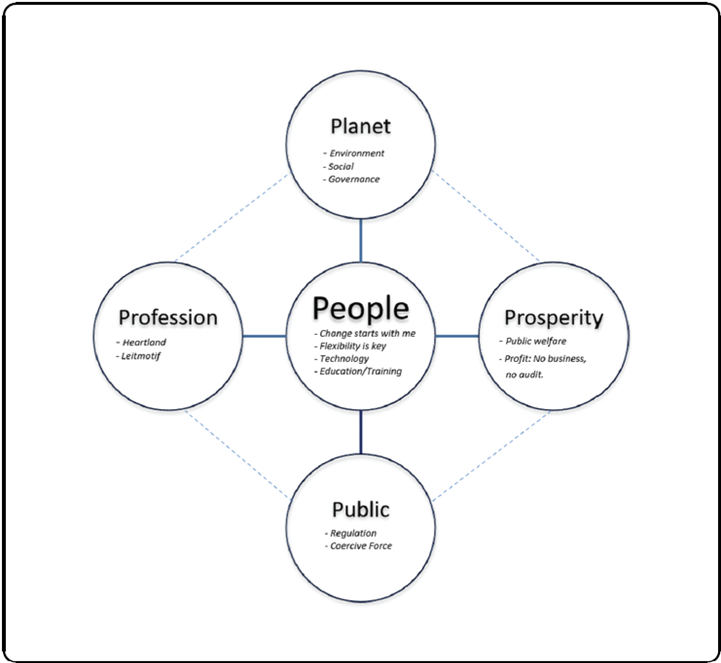 Just as described in the chart, all change starts with people. I strongly believe that people, i.e., internal auditors, are the most important starting point, especially in today's world, to reinvigorate the state of our profession.
But that is not enough!
Even if we manage to activate the auditors' will for change, the following question arises: Can and may auditing in today's setup actually contribute to the planet or to Public Welfare?
A look at the mission statement of our profession leaves me in doubt. It states, "The mission for internal auditing is to enhance and protect organizational value by providing risk-based and objective assurance, advice, and insight." [ii]
So, the primary mission is to enhance as well as protect the value of the organization for which internal auditors work. Our scope, as defined by the current mission statement, is thus clearly limited to the company, or the value of the company.
Is the IIA's mission for internal auditing still up to date?
Will the audit of the future also have to deal with issues that are not clearly related to corporate value? Where is the human element to be found in the current mission statement? Shouldn't we be primarily concerned with the people in the company?
Aren't we working with them every day, trying to enable them to mitigate risks, see opportunities and seize them? If the answer to these questions is "yes," we need a new mission statement. A statement that will make any auditor realize why we get up in the morning.
The core of our job, in my opinion, is to work with professionals in our organizations. I get up in the morning to help them ask themselves and others better questions, and thereby work together to gain a better understanding of the real opportunities and risks in the organization.
To give expression to this self-image, I have tried myself on a new mission:
"Internal Audit enables the people in the organization to sharpen their risk and opportunity perspective by providing objective assurance and insightful advice."
Now it's up to you and your feedback:
Does this mission help you explain to auditees what you want to accomplish in the audit?
Does this statement help you attract new people to audit?
Does this mission do justice to your daily work? If not, what is your motivation for good internal auditing?
---
[i] World Economic Forum (2000). The Future of Jobs Report. https://www3.weforum.org/docs/WEF_Future_of_Jobs_2020.pdf
[ii] https://www.theiia.org/en/standards/mission-of-internal-audit/