In our lastest blog post, you could already read a lot about what was going on at zapliance last year: We reflected, repositioned and realigned ourselves.
The outcome: we sharpened our big picture, got to the core of our values and adapted our brand to the new target image.
In the future, it will continue to be about you, the business expert. However, what will change is the increased focus on the business expert in their role as an "agent of change".
But what does that mean? We are convinced that digital transformation will only succeed if data, context and empathy are used in a targeted manner. This is where the aent of change comes in. In addition to the data perspective, the most important thing is to bring the people in the organization along with you. It's not just about data, software and databases. If you want to change something, you need the right mindset and, above all, empathy. Only then you will succeed in involving the relevant stakeholders, who are necessary to transform the data into added value in a goal-oriented manner and in the context of the company.
Our mission is to empower you as an agent of change to generate lasting added value.
To achieve this, in the past few months we have increasingly developed solutions based on the well-known software zapAudit and zapCash, which are designed to enable you as an agent of change to generate added value in a goal-oriented manner.
As we all know, such a transformation does not happen overnight, but is a process. Today marks the start of an exciting new period during which we want to share our "spirit of change" with you.
We start with a new corporate design: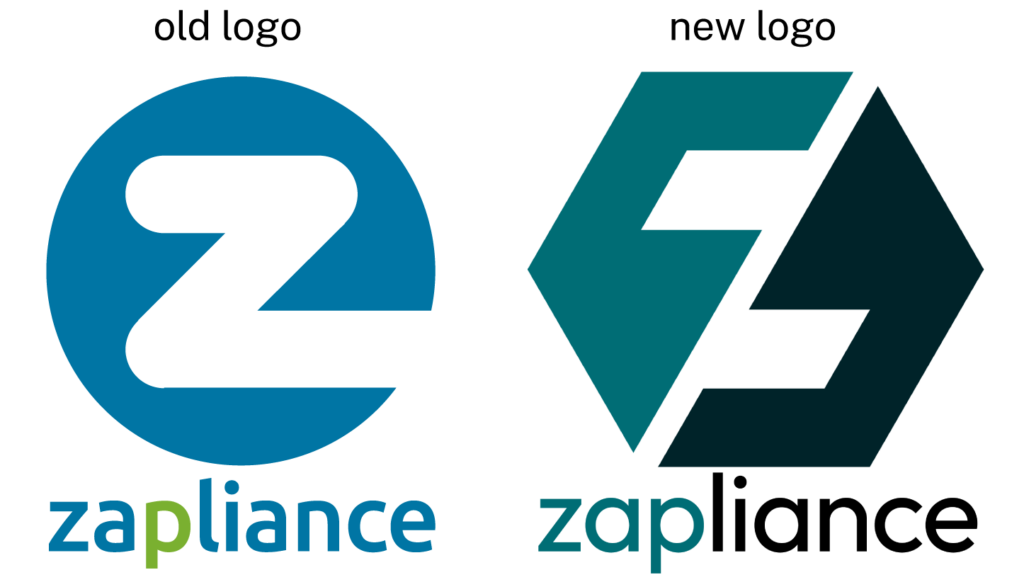 What is immediately noticeable: both the icon and the font have become sharper. The defined edges represent astuteness. The circle turned into a hexagon, because hexagons reflect the efficient evolution of the circle, the lines are guiding and leading. From now on, the main color petrol blue represents our new brand. But that's not it – just like our triad for the transformation of the future, our primary color palette moves between three colors: blue, petrol blue and plum. This way, we want our corporate design to reflect our vision:

The font background results from this very primary color palette. Here, blue stands for our deep technical know-how. The human component, which makes the technical side usable and comprehensible, is represented by the plum tone, and the connection of both components is represented by the petrol blue.
Over the next few months, our new design will gradually expand to all of our channels, in addition to content adjustments.
Last but not least, we are expanding our communication channels to include Instagram.
Instagram is a must-have for successful digital transformation. In addition to our existing LinkedIn profile, where you will find primarily professional content, you can expect to see content from our day-to-day work and our team members via @zapliance in the future. We would like to give you a look behind the scenes, because it is important to us to be approachable. Get to know the personalities behind your business experts. We look forward to your Follow!
You can expect lots of new things from us over the coming period – as always, we also welcome feedback!
Your zapliance team